GREENEVILLE – Back for its 24th edition, the Old Oak Festival will again provide a wide array of exciting activities that will cater to the whole family and provide a first-class experience for guests on the historic grounds of Tusculum University.
The festival will be held the weekend of April 12-14. It will be held from 10 a.m.-8 p.m.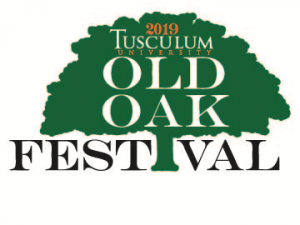 Friday and Saturday and 10 a.m.-4 p.m. Sunday. Admission is free.
"We are thrilled to welcome the region to join our faculty, staff, students and alumni for another fantastic weekend," said Nicole Rader, Tusculum's director of alumni engagement. "The Old Oak offers an exciting atmosphere, and attendees will want to bring their family and friends to all of these fun activities."
Vendors will be located at the Scott M. Niswonger Commons. The festival will have more than 30 artisans, art exhibitors and homemade craft vendors inside Pioneer Arena and in excess of 20 who will sell their products outdoors. In the grassy area nearby, tasty items from about a dozen food vendors will whet people's appetites and fill their stomachs.
Other activities include:
A variety of musical acts performing under a tent near the Niswonger Commons, with Sunday's entertainers dedicated to playing gospel

Writers from East Tennessee and Southwest Virginia discussing and selling their works on Authors' Row in the arena's lobby

Kids Corner behind McCormick Hall, where representatives from a variety of museums will work on crafts and other projects with children

A pop-up gallery in the arena lobby showing artwork created by children enrolled in kindergarten through eighth grade in the Greeneville and Greene County school systems

The fourth annual Lego® building contest at the Doak House Museum

Five, 10-minutes plays written by Tusculum students and performed in the Behan Arena Theater on the lower level of the Annie Hogan Byrd Fine Arts Center at 7 p.m. Thursday (pre-festival), Friday and Saturday and 2 p.m. Saturday and Sunday, with tickets costing $10

A blood drive with Medic Regional Blood Center Saturday from 1-5 p.m.

A Palm Sunday service conducted by Shiloh Cumberland Presbyterian Church from 10:30-noon

An Easter egg hunt, a partnership between the university and Tusculum Baptist Church, Saturday from 1-3 p.m.
"We have developed a tremendous schedule of events that will appeal to visitors of all ages and provide them ample opportunity to explore our beautiful campus," said Jill Salyers, Tusculum's vice president of institutional advancement, marketing and communications. "With spring in full bloom and the arrival of the Easter season, we have plenty of reasons to celebrate with the community."
No smoking, alcohol, pets, weapons or coolers are allowed on the Tusculum grounds.
Parking is available in the Meen Center lot, at the indoor practice facility and at the Doak House. The university will provide shuttles to the main areas where festival activity will occur. Parking for people with disabilities will be available in the lot beside the Niswonger Commons.
For more information, please visit www.oldoakfestival.org or contact Rader at 423-636-7303, ext. 5681, or nrader@tusculum.edu.